How do I access my account information?
After signing in to SecurityBenefit.com, you select the "My Accounts" link at the top right side of the website or the "My Accounts" menu option. Now after you sign in to the new site, you can also get to your account in additional ways:
Under the "QUICK LINKS" section (after you've signed in), select the "View My Account" link to access your accounts, or  

At the top right of the website, you can select the "My Profile" menu and then from the dropdown select the "View My Account" link.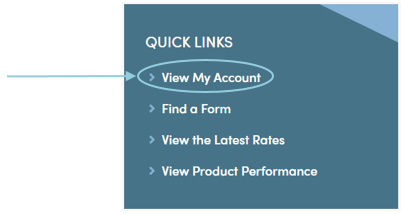 Who should use the SecurityBenefit.com website to access their accounts?
Only annuity contractholders should use SecurityBenefit.com to access information regarding their account. Mutual fund custodial accountholders should use SecurityRetirement.com to access account information.  
If you have an annuity and a mutual fund custodial account, you can access both on SecurityBenefit.com.  
What changes have been made to the online account system?  
The new online system provides simple, user-friendly access to both annuity contract(s) and mutual fund custodial accounts for those who have one or more of each type of account. The new system features a flexible, responsive design for viewing account information across multiple screen types and devices.
Several other features include:
Contract and online transaction details (same as previous system)
Account access with a "dashboard" type viewing capability
Email or web alerts for select account activity
How do I navigate the online account system?
Once in your new Dashboard, the menus are similar. However, the data format is different:
Your accounts: Now listed underneath the "MY ACCOUNTS" header. If you only have one account, click on that account to see details (e.g., account value, transactions, documents/statements, etc.).
Your Account Information: Now organized by subject areas called "cards":  

Each "card" provides a snapshot of data.
Most "cards" can be expanded to reveal more data by clicking on the header title (white labels at the top of each card).  If a card is expandable, the header will be underlined when you hover over it with your mouse. Expand each card to see additional:

Data 
Functionality (such as sorting, printing, and exporting) 

New left-side menu: Provides access to additional data and functionality.  
Drill downs: Generally, you can drill down to more information by clicking on a row of data. 

If you select one of your accounts, you'll be provided with a new view of contract/account details. A new set of left-side menu items will be provided under the green box.  
How do I return to the homepage?
To reset for a new search or other task, select the "Dashboard (Home)" link located in the left-side menu or in the top right header section of the page. 
Are there any new features that may save me time and effort?  
Yes. There's a new Alerts feature. You can configure the system to send you notifications of selected account activity via web or email. Supported account activity alerts include:
Account Status Change (to notify you when your account(s) have a change in status)
Address Change Verification (to notify you that the address for your account has changed — for verification and also for security purposes in the event you didn't initiate this change)
Pending Account Status Change (to notify you of the processing progress of your new annuity accounts only)
To set up alerts:
Click on your profile link at the top right of the screen (e.g., Hello, Mary).  You'll see your sign in ID and the "Sign out" menu. Click on your sign in ID.
Next, click the "Alerts Setup" link in the blue bar.
Next, click the "+ ADD/CHANGE ALERTS" link.
Now select your "Alert Destination" (email, web).

Next, select the Alert Event you want to activate.
Next, select the "Subscribe" button.

When finished, click the "Dashboard (Home)" link.
How do I sign out of the online account system?   
Click on your profile link at the top right of the screen (e.g., Hello).